When People Talk about Acesight...
"Acesight allows me to better see the materials I'm working with."
Maureen H.
Texas A&M marine biology graduate student
"It's just really easy and simple to use."
Carrie Morales
Live Accessible 
"Feels like I have bionic sight."
Hayley P.
Diagnosed with Bilateral Optic Nerve, Hypoplasia, Esotropia, and Nystagmus
"My patients do very well with the Acesight electronic glasses."
"I was impressed by the image quality that definitely I noticed the first time I put it on."
"He could see his fiancée from across the room."
Susan W H.
Mother of Tanner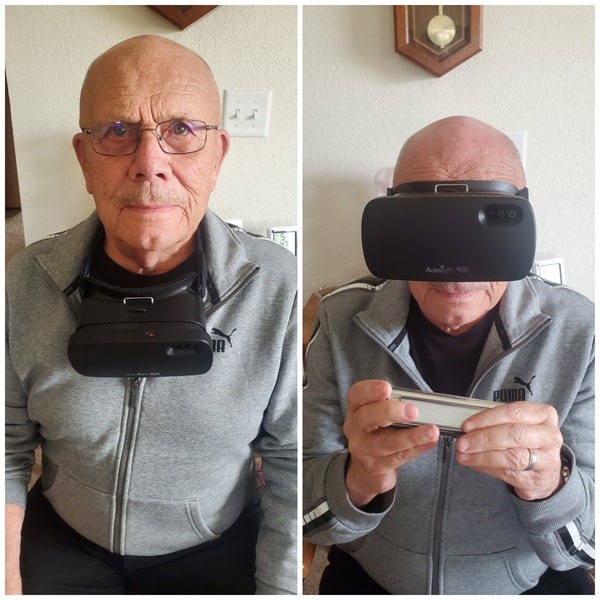 "I think that you have hit a homerun with Acesight VR!"
Chuck F.
Visual Acuity 20/400
Pomeriggio Norba
On Tuesday, December 7
Hi,
Just wanted you to know that the AceSight VR arrived in good shape this week. Ive had a couple of days to get to know it. Heres my quick review…
PROS
easy to set up and use. I like its simplicity.
The image quality is outstanding. I was hoping for more clarity but the blurriness is more a result of my vision than the device, Im sure.
Love the brightness settings for my vision..
The wireless controller is easy to use and intuitive. Love the very fast zoom.
CONS
The field of view is not quite as wide as the [brand name hidden] but adequate for my vision.
I was surprised and disappointed that the controller does not have a sturdy clasp that would accommodate a lanyard. The device is too easy to drop or misplace, especially for those of us with little vision.
CONCLUSION
The Ace Sight VR is the best, overall wearable that tried for my vision. I've tested [brand name hidden], [brand name hidden], [brand name hidden] and [brand name hidden]. At the end of the day, I'll take the AceSight Vr for my particular vision loss. Thank you for your outstanding service and support in helping me make the best decision possible.